With so many options, planning your kitchen project can be tough. Choosing cabinets for your home can be confusing.
With Nuzum's Design Center you can rest easy. Our cabinet designer, Oscar at our Viroqua location will walk you through your project step-by-step. With his help planning and guidance  your kitchen or bath just got much easier.
Your first step is to call and set up an appointment for an in home design visit. We'll discuss your goals and take measurements. Once you've chosen the cabinets computer generated drawings will allow you to visualize your completed kitchen. We'll help you find a contractor and make your dream kitchen a reality.
When designing your new kitchen and choosing the best cabinetry solutions for your home, the first thing to consider is the layout of the kitchen. The kitchen's layout is the shape that is made by the arrangement of the countertop, major appliances and storage areas. This floor plan creates the kitchen's work triangle — the path that you make when moving from the refrigerator, to the sink, to the oven to prepare a meal.
There are five different layouts found in today's kitchens.
Galley
L-Shape
U-Shape
Single Wall
G-Shape
Galley
Galley Kitchen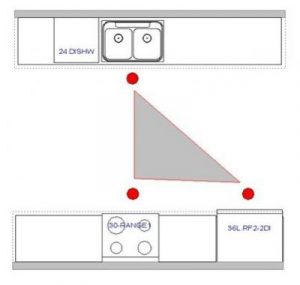 The galley kitchen has a workspace large enough for one cook. In this kitchen floor plan, the work stations face each other on parallel walls, creating a small work triangle. Similar to the single-wall kitchen floor plan, you may choose to stack wall cabinets to maximize space.
L-Shape
L-Shaped Kitchen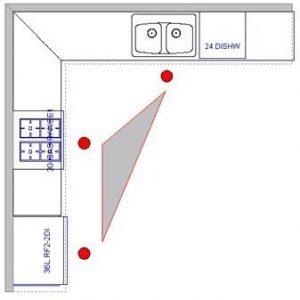 In an L-shaped kitchen layout, a natural work triangle is created from continuous counter space and work stations on two adjacent walls. The benifit of this kitchen floor plan is that it not only provides the cook with an efficient work area, but it typically opens to a nearby room making it easy for the cook to talk with guests.
U-Shape
U-Shaped Kitchen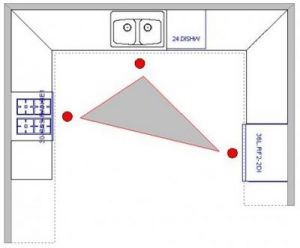 The U-shaped kitchen is the most versatile layout for kitchens of all sizes because the layout offers continuous countertops and ample storage that surround the cook on three sides. When space is available this plan can be spacious enough to be divided into multiple work stations. An added island can be a great addition to this layout.
Single Wall
Single Wall Kitchen

The single-wall kitchen floor plan can be ideal for smaller homes. The work triangle in this kitchen layout is less like a triangle and more of a work line with all three kitchen zones along one wall.
G-Shape
G-Shaped Kitchen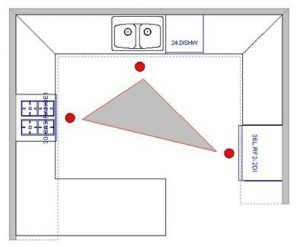 The G-shaped kitchen is a version of the U-shaped kitchen layout. The space allows for counter space and storage on three sides of the cook. The difference is that the G-shaped kitchen floor plan includes a peninsula or partial fourth wall of additional cabinets. To avoid creating a plan that can seem cramped, allow for one wall to be open to another room.
Each layout creates its own unique floor plan. Efficiency can be achieved with each layout by enhancing the space with the right cabinetry.

Review the five kitchen layouts to identify which is most similar to your current kitchen. When looking at each layout, focus on the work triangle created in the room — you may find a kitchen floor plan that you prefer over your own. Keep in mind that even if you're not making significant structural changes to the kitchen, you can still enhance the layout with the right cabinetry.