Being a homeowner is a big responsibility and having a handy toolkit nearby is essential. When something important breaks, chips or deteriorates, it is imperative to get it fixed. Paying someone else to do it or saving yourself some money and doing it yourself are the best options. If you are looking for a wide variety of power tools to add to your tool kit, Nuzum offers Makita products that make every job easier!
A lot of projects only require a few simple tools to complete. Having basic tools handy at home will make it convenient to complete easy home repairs. Whether your toolbox is in the garage, or you keep your necessary tools in a kitchen drawer, having the right kind of tools nearby is key to completing projects yourself!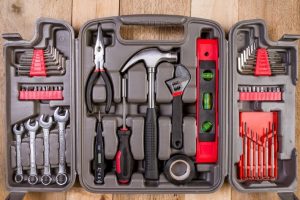 • Cordless drill – There are endless possibilities when it comes to the use of a cordless drill. Use this power tool to insert screwdriver bits to remove screws or drilling pilot holes for screws and nails. When you want to get the job done efficiently and effectively, a cordless drill is important! Nuzum's premium line of power tools, Makita, offers the perfect cordless drill for your kit!
• Assortment of nails and screws – You can find a variety of nails and screw sizes in prepackaged containers and your local home center, such as Nuzum.
• Screwdrivers – A good quality flat head screwdriver and a Phillips head screwdriver are the two most important kinds you will need in your toolkit. A set of tiny screwdrivers can be helpful as well when needing to tighten the screws on a pair of eyeglasses!
• Pliers – It is important to have a wide variety of shapes and sizes when it comes to pliers. Wire cutting pliers are also good for wiring and craft projects.
• Tape measure – Choose one long enough to measure a wide range of small and large furniture and spaces. A small tape measure that can fit in your pocket or purse can come in handy on the go as well!
• Level – Make sure your pictures are hanging level. A good, sturdy level will last a lifetime!
• Hammer – For hanging pictures or putting up shelving, consider different sizes of hammers for more delicate projects or heavy construction!
• Wire cutters – Ensure you do not damage your home scissors by using the correct type of wire cutters. Wire cutters make it easy to cut a wire when dealing with electrical repairs, crafts, and other projects!
• Blue painter's tape – Professional and amateur painters use blue painter's tape to mask off areas they want free of paint. Available in different widths and sizes, this special tape is made to be removed from surfaces without causing damage. You can tape off the edges of a door frame or tape down runners to protect the floor from scratches when moving large furniture!
• A pencil – Having a pencil handy will be of more use than you think. Use it to place a mark right where you need to drill a hole or record a measurement. It is important that it is a pencil and not a pen, so it is easy to remove!