Valspar's Paints and Primers
You want to pick the right color for your home, but you also want to make sure you're selecting the right paint, too! We have given our stamp of approval year-after-year to Valspar. Why Valspar? It's one of the world's leading paint companies for a number of reasons.
Here are a handful of benefits of selecting Valspar paint for your next remodeling project:
Valspar Color
Of course, color is the real star of the show when it comes to painting. Valspar offers a multitude of different formulas and shades, from dark, intensely pigmented hues, to paint/primer combinations impervious to stains and dirt. They also select a dozen colors each year, which parallel the year's hottest trends in culture, fashion, design, and technology. There are over 1700 colors from which to choose, so you can find the perfect shade for every home improvement project.
Valspar's 200+ Years of Experience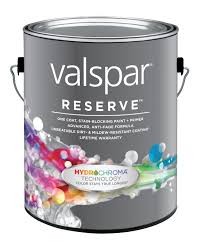 Valspar has been making strides in the paint business for over 200 years. The brand was founded in the early 19th century in Boston when it operated as a paint dealership. What started off as a small paint business is now listed on the Fortune 1000. As the company grew, so did their selection of colors and products.
Much like their paint, Valspar has stood the test of time with flying colors. Since 1806, Valspar has been vibrantly coloring the world with their products. Whether it was the houses down the street or the plane of American Aviator Charles Lindbergh, Valspar had it covered and still does to this day.
Valspar's Color Guarantee
Valspar guarantees you will love the color you choose—if you don't, they'll give you another one for free! The process is simple. Instead of returning a color you dislike, just buy a new one, take a photograph of both hues on your wall, and fill out a rebate form through the Valspar website. If only all brands offered such an alluring deal!